Best Spray Painting Sydney
Fill in our Online Contact Form, or call us on 0450 222 922 today to arrange a consultation.
Auspaint Sydney is the top choice for the best Spray Painting Sydney. With our extensive experience and knowledge, we are dedicated to delivering the best possible finish for your Spray Painting Sydney. We understand the right type of paint to use, the appropriate number of coats required, and when to consider the job complete. Our commitment to quality workmanship ensures that your project perfectly finishes.
As Spray Paintingers in Sydney, we offer a wide range of services of Spray Painting Sydney. Spray Paintinging allows us to cover large areas or objects quickly, leaving no visible traces of paint or unevenness. Using a specialized spray gun, spread the paint into fine droplets that are deposited smoothly onto the surface. This method is compatible with most types of paint, ensuring versatility and optimal results.
Before Spray Painting Sydney, we meticulously prepare the surface, ensuring it is smooth, dry, and clean. This preparation is essential to achieve a perfect finish. Spray Painting Sydney offers numerous advantages, including efficient application, time-saving benefits, economical use of paint, and consistently outstanding results.
If you ask yourself what is the best Spray Painting near me? the right answer is Auspaint Sydney, the expert painter for Spray Painting near by and Sydney. Our expertise, attention to detail, and commitment to excellence will ensure your project is transformed with a perfect finish. Contact us today to discuss your requirements and experience the benefits of professional Spray Painting Sydney.
Spray Painting Tips
If you're considering Spray Painting Sydney, a few tips and tricks can help you achieve the best results. At Auspaint Sydney, we want to ensure your Spray Painting Sydney experience is smooth and successful. Here are some valuable tips to keep in mind:
Shake Your Spray Painting Before Spraying:Before you begin spraying, it's essential to shake your Spray Painting can thoroughly. This helps to mix the paint and ensures a consistent application. Make sure to follow the instructions on the can for the recommended shaking time.
Don't Forget Your Painting Gloves:When working with Spray Painting, it's crucial to protect your hands. Wearing painting gloves will not only keep your hands clean but also prevent the paint from coming into direct contact with your skin. This is especially important if you have sensitive skin or allergies.
Purge Your Spray Painting Can When Finished: After completing your project, it's important to purge the Spray Painting can. This involves turning the can upside down and spraying until only clear gas comes out. Purging helps prevent clogging and ensures the can is ready for future use.
Safe Transporting:If you need to transport your Spray Painting cans, it's essential to handle them with care. Make sure the cans are securely sealed to prevent leakage. Keep them in an upright position during transportation to avoid spills or damage.
Spray Painting Clothes: It's wise to wear appropriate clothing that you don't mind getting paint on. Opt for old or protective clothing that covers your body well, including long sleeves and pants. This will help protect your skin from accidental overspray.
If you do not intend to paint yourself and looking for Spray Painting services near me, we should say stop searching; at Auspaint Sydney, we have extensive experience in Spray Painting and provide professional guidance for your Spray Painting Sydney. For those who are looking for a Spray Painting specialist near me? We have an expert and professional team who ensure successful and excellent art creation.
Contact us today to discuss your Spray Painting needs. Whether it's for interior or exterior surfaces, we are here to help you achieve excellent results with our top-notch Spray Painting services.
kitchen Spray Painting Sydney
At Auspaint Sydney, we offer a professional kitchen spraying service that can transform the look of your cupboards and fixtures without the need for expensive replacements. Our service includes spraying both sides of your cupboard doors and drawer fronts for complete coverage and a seamless finish.
With a wide range of colours to choose from, you can freshen up your kitchen to match your home's decor or simply change the colour to better suit your personal taste. We use professional-grade, high-quality paints and coatings that are durable and scratch-resistant, ensuring your kitchen looks great for years to come.
At Auspaint Sydney, our team takes pride in providing top-notch services that use expert techniques and materials. If you're interested in discussing your kitchen transformation project with us, please contact us today. We'll help you achieve your desired look while saving you money.
Window Spray Painting Near Me
It can be quite expensive if you're looking to replace your old and damaged UPVC windows. However, there's a more affordable alternative offered by Auspaint Sydney – UPVC window spraying. With our professional service, you can have a brand-new look for your windows without having to pay for a full replacement.
With our expertise in UPVC window spraying, there's no need to invest in replacement windows. We can restore the appearance of your tired UPVC windows, giving them a new lease of life. Our skilled team at Auspaint Sydney can professionally respray your UPVC windows in any colour you choose. We have a wide range of coatings available that can completely transform the look of your home, all at a significantly lower cost compared to a full window replacement.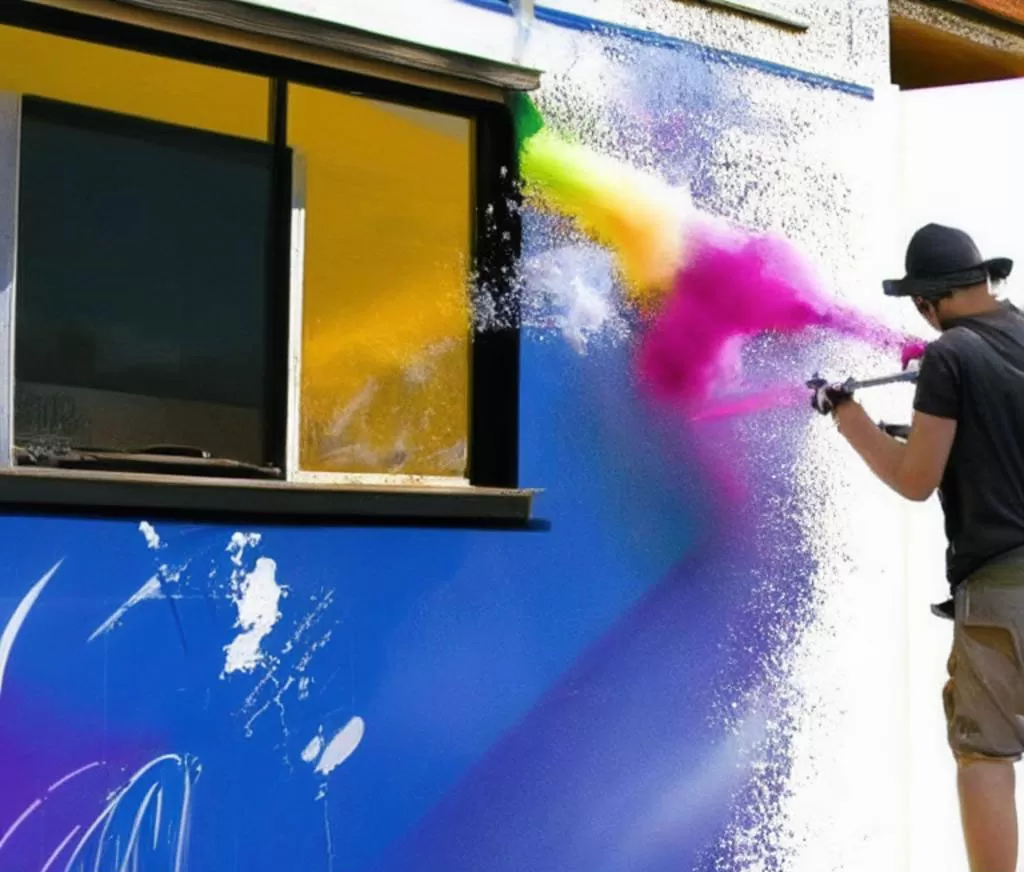 Spray Painting Bathroom Sydney
Are you looking for a refreshing appearance of your bathroom tiles in Sydney? Consider the Spray Paintinging tiles sydney as an alternative to replacing them with new tiles. You don't have to spend a lot on new tiles. Spray Paintinging them can be a cost-effective solution. Here are the benefits:
Customization: With Spray Painting Sydney, you can customize your bathroom tiles to match your style. Choose any colour or design you like to create a unique and personalized look.
Revitalization: Say goodbye to old and unattractive tiles. Spray Painting Sydney gives your tiles a fresh appearance, making them look brand new. It's a great way to update your bathroom without the hassle of replacing tiles.
Durability: Painted tiles, just like store-bought tiles, can withstand regular wear and tear. When done properly with quality paint and preparation, the painted surface can be durable and maintain its beauty over time.
Time and Cost Efficiency: Transforming your bathroom tiles through Spray Painting is a cost-effective and speedy alternative to a full tile replacement. This budget-friendly option can deliver impressive results without draining your bank account and saves you from the annoyance of renovation.
At Auspaint Sydney, we specialize in Spray Painting bathroom tiles. Our professional team ensures proper preparation and uses high-quality paint for an ideal and long-lasting finish. Contact us today to discuss your Spray Painting Sydney and let us help you transform your bathroom with our painting services.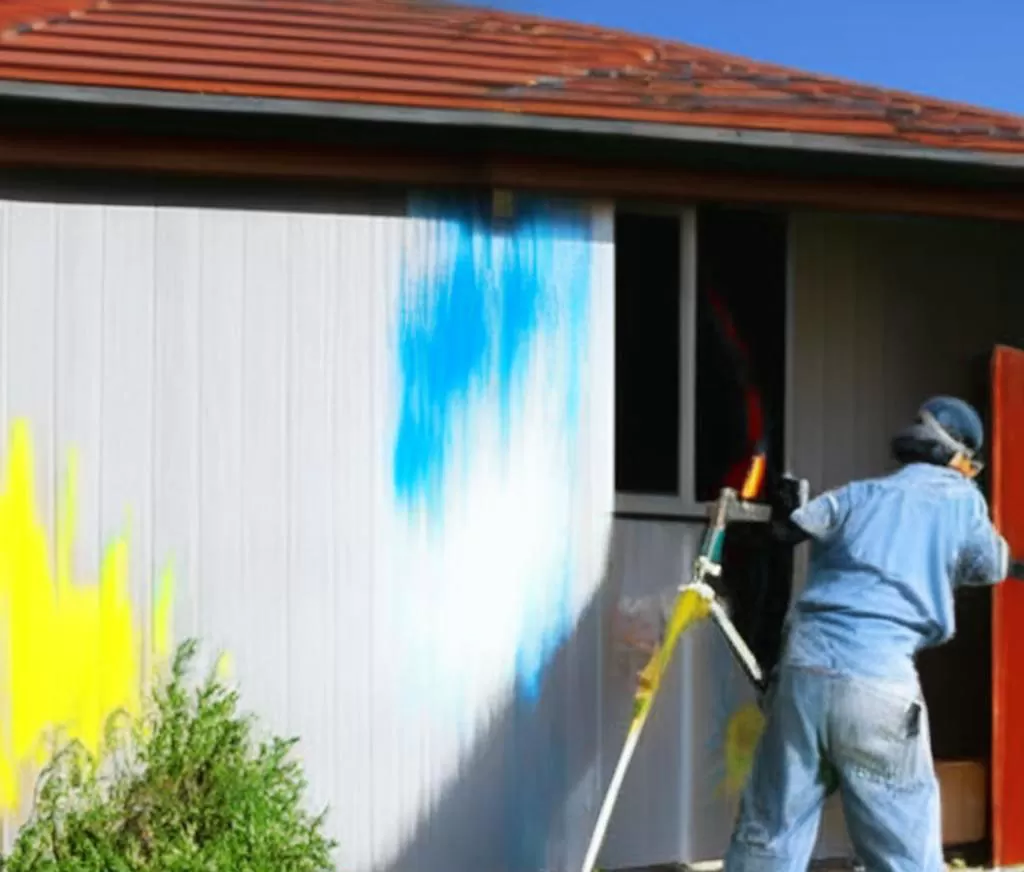 Interior Spray Painting Sydney
Our expert team uses airless spray guns to provide a smooth and high-quality finish, transforming the appearance of your walls, wall panelling, kitchen cabinets, and wardrobes. Our professional Spray Painting technique is a cost-effective and durable alternative to costly replacements. Trust us to deliver exceptional results and a fresh new look for your property. Contact us today to discuss your interior Spray Painting needs and experience a professional and stress-free service.
Why Choose Auspaint Sydney for Spray Painting?
When it comes to giving your property a fresh coat of paint, Auspaint Sydney is your top choice for Spray Painting Sydney. Our expertise and dedication to delivering exceptional results set us apart. Here's why you should choose us for your Spray Painting in Sydney:
Speed and Efficiency: Painting with brushes and rollers can be time-consuming. With our Spray Paintinging technique, our skilled team at Auspaint Sydney can complete your project more efficiently, saving you time and effort. Additionally, Spray Painting allows us to access hard-to-reach areas and achieve more uniform coverage.
Consistent and Professional Finish: Spray Painting creates a smooth and even coating, giving your surfaces a professional look. Our experienced painters know how to handle the equipment and ensure particular attention to detail, resulting in a perfect finish.
Skilled Specialists: At Auspaint Sydney, we have a team of painting experts with extensive experience. Our licensed professional team undergoes extensive training to improve their skills and keep up with the latest techniques. They are equipped with the right tools and knowledge to deliver high-quality workmanship.
Comprehensive Services: In addition to Spray Painting, we offer a range of comprehensive services to meet all your painting needs. From surface preparation and repairs to finishing applications, we handle every step of the process. Our experts also provide colour consultations to help you choose the perfect palette for your Spray Painting Sydney.
Affordable Options: We understand the importance of working within your budget. That's why we offer competitive pricing and flexible service packages to suit your specific needs. We believe quality work shouldn't come at a high price, so you can trust us to provide cost-effective solutions without compromising excellence.
If you're looking for trustworthy and skilled painting services, consider Auspaint Sydney. We offer a range of options, such as interior painting Sydney for a calming environment, exterior painting Sydney for an impressive facade or residential painting Sydney. Transform your property with a stunning and long-lasting paint job. Contact us today to discuss your project and let our experts bring new life to your space with our top-notch painting services.

Don't delay. Call today. Auspaint is waiting to get started on your project. Fill in our Online Contact Form, or call for a chat on 0450 222 922.